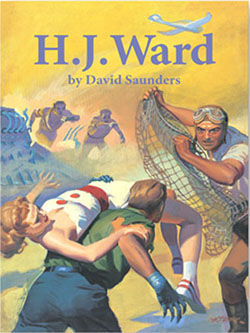 HUGH JOSEPH WARD BOOK
Published by The Illustrated Press.
Hugh Joseph Ward (1909 1945) painted many sensational pulp magazine covers. He painted sexy women hounded by ferocious predators, whose merciless villainy is only matched by their shocking lack of chivalry. His work has fascinated generations of fans, but his life has remained a mystery ever since his untimely death from cancer at the age of thirty-five, while serving in WWII. This book finally reveals the life of the man behind so many masterpieces of pulp art. It chronicles his humble family roots, his art education, and his early career as a newspaper cartoonist. The artist's working methods are documented along with his impressive contributions to the earliest conceptualizations of America's famous super heroes The Lone Ranger, The Green Hornet, and Superman. This is an insightful biography, richly seasoned with quotes from the artist and his associates, that chronicles the life and art of this important American master of 20th century popular culture. This is the consummate reference book on H.J. Ward, with over five-hundred high quality reproductions. The book contains more than 100 original paintings, 80 drawings, and 50 historic photo-graphs, as well as a comprehensive checklist of all published illustrations. 272 pages, 9 x12 full-color on premium glossy stock, hardbound with dustjacket. Anyone interested in great American art must have this book.
Let us know if you would like a copy signed by the author.
$55
postage paid
FREE SHIPPING
(in USA only)